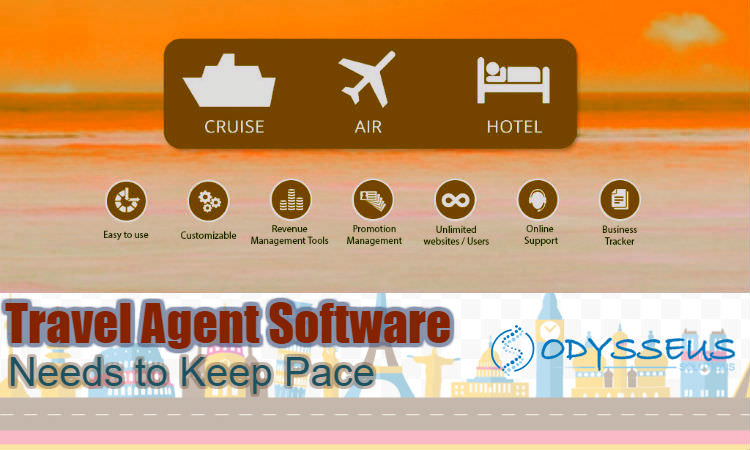 Technology has changed the way the world interacts and selling travel is no exception. The travel agent software available today has automated and customized the entire booking process while providing comprehensive and innovative solutions for travel agents to serve their customers better. There are solutions available today for travel agents that will make the entire shopping and booking process quicker and easier for themselves as well as for their customers.
For example, currently planning and booking a cruise can be a long process and generally involves multiple online and offline steps. It starts with online research which may involve cruise line websites, cruise reviews, online travel companies and social media applications. Many of today's consumers shopping for a cruise seek advice from friends and family before they visit and/or talk to a traditional travel agent or call a cruise line representative. And online is no longer limited to using a desktop or laptop with many initial cruise searches were conducted on mobile devices. Integrating the online and offline research, shopping and booking experience is critical since many consumers will switch between various devices as they research and eventually purchase products.
The challenge is to integrate consumer online planning and research with the offline expertise of a traditional travel agent. One way to accomplish this goal is for the travel agency to deploy an online booking engine. This may sound counter intuitive for traditional agents who want to keep the booking offline, but allowing the consumer to plan online with an agency sponsored booking tool may represent one of the most important ways to integrate online and offline activity and capture the customer's business.
Travel agent software must be easily integrated with the entire process and provide consistency in the shopping experience. Applications should have the most up to date availability and pricing along with detailed descriptions with pictures & images to assist both agents and consumers during the research, shopping and booking process. And for those looking to expand their reach into new markets, the ideal solution must also provide for localization of language, currency and market requirements.
Easy to use travel agent software should be built in a way that automates processes and reduces the amount of time it takes to make a booking. Many are designed to be so easy to use that they require minimal training and can have agents selling quickly. The application should be easy to use and contain the relevant information that a travel professional needs to research the options available. For example, finding the right hotel based on an individual customer's specific needs is an important part of planning any trip, but can be overwhelming with so many options available. To help simplify the process and select the right hotel for a client, many hotel booking engines integrate links to media files & rich content to assist during the shopping process.
Finding travel agent software with the right combination of options for your business can be a critical decision. Finding a technology partner that will help you reach today's mobile consumer where and how they shop for travel can be just as important.